Pi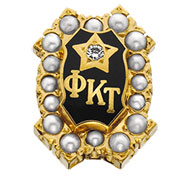 Campus
The University of Southern California [Golden Bear South Domain]
Founding
Founded as Alpha Phi Kappa – May 28, 1921
Chartered as 16th chapter, Pi of Phi Kappa Tau - May 26, 1922
Absorbed Alpha Nu Delta - 1933
Ceased operations - 1988
History
In May of 1921 Archie Matson, a student at the University of Southern California, was approached by Paul F. Opp, a member of Epsilon chapter of Phi Kappa Tau who had been active on the Pacific Coast, concerning the possibility of the establishment of a chapter of Phi Kappa Tau. Richard Bird and Roy Johnson, other students at the University, soon joined the discussions and these three undertook the formation of a local fraternity. After an initial unsuccessful effort, Norman M. Lyon of Nu chapter became associated with the project, and in October of 1921 a group was finally formed. The initial formal meeting was held on November 14, 1921, in the administration building of the University of Southern California. The new local fraternity adopted the name of Alpha Phi Kappa. Under the guidance of Opp and Norman M. Lyon, California, the local fraternity grew to twenty members. The following January the house at 3001 Brighton Avenue, Los Angeles, was rented and full-fledged operations were begun. In March a petition for a charter as a chapter of Phi Kappa Tau was presented and the petition met with the needed unanimous approval of the resident and graduate councils of Phi Kappa Tau. On May 22, 1921, Pi chapter was installed at the University of Southern California and the founding members were initiated on May 26, 1921. Pi chapter was the fourth general national social fraternity to be established at the University of Southern California. Only Sigma Chi, Delta Chi, and Sigma Alpha Epsilon preceded it. The initiation team for Pi chapter was Grand Secretary Bowers; Norman M. Lyon, California; Charles C. Fabing, Miami; Robert Carson, Gerald D. Stratford, Howard Fey, and Alva C. Rogers, California; and T. H. Wright, Transylvania. The charter members were William Andrews, Mahlon Arnett, Richard Bird, Archie Black, Clifford Davis, Edward Freeland, Glen Grant, Albert Haase, Thomas Harrison, Roy Johnson, Archie Matson, Roland Maxwell, Charles Mayer, Orin McCabe, Verne Miller, Jerre Moreland, Walter Ralph, George Roan, Basil Smith, James Simpson, Clarence Taylor, Beach Vasey, Ray Vincent, Roy Vincent, Lloyd White, Paul Willhide, and Clarence Wright.
The following year, the former home of the family of Mahlon Arnett, a charter member of the chapter, at 1200 West 37th Place, was rented and this house was occupied by the chapter until a move was made a few years later to the end of fraternity row on Hoover Street opposite 28th. The next move of the chapter was to 904 West 28th Street and after this house had been rented for several years it was purchased from the owner in the year 1936, during the tenure of Fred Hall, who would become Governor of Kansas, as president of the chapter.
In 1933 a local fraternity, Alpha Nu Delta, merged with Pi chapter, bringing with it a group of excellent men, including Francis Cilini, who within a short time became president of the chapter as well as an outstanding campus leader, one of his offices being that of general manager of the "Daily Trojan."
In 1939 the house at 904 West 28th Street was extensively remodeled so that its entire appearance was changed. The excellent architectural design for this remodeling was prepared by Harry Ganstrum of Alpha Epsilon chapter.
The chapter had been continually in active operation since its charter. During World War II, beginning with 1943, the house was rented to the Chi Omega Sorority but even without the facilities of a house the men enrolled in the university under the various service programs, maintained a strong, active chapter group, and during the portion of the time had a meeting room in a small store building on Hoover Street. After the war the annex to the chapter house which was originally its garage was destroyed by a fire and a new annex was constructed. The architect was Fred Clark of Pi chapter, and this new building was so situated that it could become part of a future new chapter house.
During the years of its existence members of Pi chapter have held many positions of responsibility on the Southern California campus. Don Cameron was president of the Associated Student Body in 1925-1926. George Jordan was editor of the "Daily Trojan" in the year 1926-1927. Jess Mortenson, who became the track coach at the University of Southern California, was captain of the national championship track team in 1930; and as one of the greatest all-around athletes of the University, made letters in football, track and basketball during all of his years of athletic eligibility. John Baker, who became assistant football coach at the University of Washington, was captain of the 1928 freshman football team and received All-American recognition in both 1930 and 1931. On November 21, 1931 he kicked the field goal in the Notre Dame-USC game, the football game which brought to the University of Southern California one of its all-time great victories by a score of 16-14.
Glen Grant, a charter member of the chapter, was co-author and composer of the University's great song, "Fight On." Joe Ward was captain of the 1930 championship varsity baseball team. Ward was also a varsity football player, and other football men who received wide recognition were Anthony Steponovitch; Byron Gentry, who afterward received All-American professional recognition; John Ward; Jess Shaw; Curtis Youel, Howard Stoecker and Al Piviani. Varsity debate captains were: Roland Maxwell, Bernard L. Brennan, Ray Brennan, John Dutcher and Sterling Livingston. Three members of the chapter that have served the fraternity as field secretaries are Jerry Paige, Robert Van Buskirk, and Walter Slike. Arthur Freston and John Eagle were winners of the Law School medal for highest scholastic achievement.
Other basketball letter winners were: Robert Boyd, Floyd Reeves, and Tom Lewis. The chapter's first major sport letter winner was pitcher Mike Jones of the varsity baseball team. David Bryant was the winner of the Trojan Diamond Medal for outstanding undergraduate achievement. He was also the editor of the "El Rodeo" in 1927-1928. Eugene Lynch was the University's greatest ice skater. Curtis Youel received the Gimbel Medal for demonstrating the most cooperative spirit in major sport. Herman Taylor received the Shideler Award in 1940 as the fraternity's most outstanding undergraduate.
Lyman Hazzard, Southern California '25, and Henry Rohr, with their mothers, were the founders of Phi Eta, a national mother's group, the first in history for a national fraternity, which flourished for a number of years. Lyman Hazzard designed the Phi Eta monogram badge, and Raymond Harvey, Southern California '28, designed an attractive coat of arms containing much Phi Eta symbolism. A constitution and an elaborate Ritual were printed and bound.
In the year 1938 five members of the chapter were elected to Phi Beta Kappa and two men, Gerald Brown and Jack Golay, were chosen as Rhodes Scholars. During the twenty-six semesters ending in the year 1939, the chapter maintained the highest scholastic average of any fraternity on the Southern California campus.
Gold Star members of the Pi chapter who gave their lives in World War II are: Howard Gottschall—the second Phi Tau to be killed in action, Joseph G. Anderson, Hal C. Fisher, and Walter C. Baker, Jr.
In the 1960s, the chapter occupied a new home built by the university on the West 28th Street lot, which boasted a large open courtyard. Beginning with the construction of the new house, the chapter began to run up a nagging debt with the university, which was further complicated by low membership in the 1970s and early 1980s. Later Shideler Award recipients included John E. Sullivan in 1966 and Jay E. Smith in 1973. Pi Chapter finally closed in 1988.
Present Status
No longer in operation
Hall of Fame Members
Shelley Berman, USC '05, actor, comedian, professor, writer
Roland Maxwell, USC '22, past National President (1934 ~ 1959)
John W. Baker, USC '29, formal NCAA head football coach
Bundy Colwell, USC '31, founder and former CEO, Colwell Company
J. Howard Edgerton, USC '31, founder and former CEO, California Savings and Loan
Albert L. Stephens, Jr., USC '33, Chief Judge, United States District Court
Fred Hall, USC '35, former Governor of Kansas
John Berardino, USC '36, former actor and professional baseball player
Jerry Paige, USC '36, Major General, United States Air Force
Paul Ignatius, USC '39, retired Secretary of the Navy
Bob Plumleigh, USC '47, importer, Lord Plumleigh Imports
Phillip Dexheimer, USC '48, CEO, Dexco Financial Services
Media
Phi Kappa Tau Centennial Opening - http://www.youtube.com/watch?v=6yP1KNdIOv0
Phi Kappa Tau History (1 of 3) - http://www.youtube.com/watch?v=041AZ2xwtbc
Phi Kappa Tau History (2 of 3) - http://www.youtube.com/watch?v=c2ALltiSV_4
Phi Kappa Tau History (3 of 3) - http://www.youtube.com/watch?v=WQh9nzGpFxk
Phi Kappa Tau History Show - http://www.pktbk.com/flash/flashstory2.swf
Phi Kappa Tau Home Page - http://www.phikappatau.org/
Phi Kappa Tau Wikipedia Page - http://en.wikipedia.org/wiki/Phi_Kappa_Tau
Notes of Interest
Pi brother Roland Maxwell '22 wrote the Creed of Phi Kappa Tau:
Phi Kappa Tau, by admitting me to membership, has conferred upon
me a mark of distinction in which I take just pride. I believe in the
spirit of brotherhood for which it stands. I shall strive to attain its
ideals, and by so doing to bring to it honor and credit. I shall be loyal
to my college and my chapter and shall keep strong my ties to them
that I may ever retain the spirit of youth. I shall be a good and loyal
citizen. I shall try always to discharge the obligation to others which
arises from the fact that I am a fraternity man.
Sources
From Old Main to a New Century, Charles T. Ball
The Golden Jubilee History of Phi Kappa Tau: Fifty Years of Fellowship, Jack L. Anson
Phi Kappa Tau Membership Manual: Centennial Edition